While waiting for my 2nd hand twin stroller to arrive, I was thinking of the best way to bring the babies out (I really long to go shopping!). Putting little babies in the strollers might be too trouble as they might:
cry as it feels insecure sitting/ sleeping while being pushed around
I might need to look for nursing room when I wanna nurse them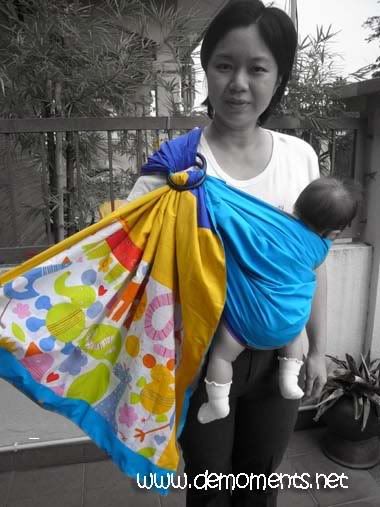 Before this, I wasn't interested in using any sling. Not until I came across this very beautiful
IKEA
Barnsling
ring sling by Baby Wombie!
Since my babies love to cry so much, the best solution of course is to wear the babies close to my heart. With a sling:


I can breastfeeding discreetly in a sling

I easily walk everywhere with my hands free

my baby can feel my heartbeat and warm of mummy

I get to cuddle and smell my sweet smelling baby up to 3 YEARS!
I do not have to invest a twin stroller (WHICH IS SO EXPENSIVE) at all

I even sling one twin (while my maid sling another) in the car since the babies refuse to sit in the car seat!
Interested to get one of this very unique design sling for your darling? Do grab the limited
IKEA
Barnsling
ring sling by
Baby Wombie
.